Newtonia Cemetery Needs Your Help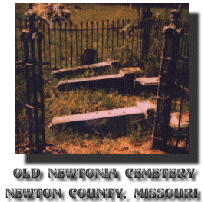 Cemetery `will never be same' after vandalism
By Glenita Browning
Globe Staff Writer
Joplin Globe Online


Volunteers say they are appalled at the destruction found Monday at a secluded cemetery honoring Civil War veterans.

David Weems said vandals overturned and broke at least 88 tombstones at Newtonia Civil War Cemetery.``This is particularly disheartening for us,'' he said. A group of five volunteers has been cleaning up the cemetery, which Weems described as one that is forgotten because most of the families of those buried there no longer live in the area.

Randy Scott, a Newton County sheriff's deputy, said two juveniles, ages 14 and 16, have admitted vandalizing the cemetery. Their case is to be handled by juvenile authorities. Kay Hively, a cemetery board member, said a sign points the way to the cemetery. Visitors must follow a long lane and cannot see the cemetery,which is surrounded by trees, until they open the front gate, she said.

Funds always are a concern for the board, Ms. Hively said. Board members conduct fund-raisers each year to pay the $1,200 bill for mowing. ``It will never be the same,'' she said. ``We don't have the funds to restore all this.'' Long-range plans were to make uniform markers for the unmarked graves, Weems said. He said he doubts the town of 200 people can raise the money to repair the damage caused by the vandals. ``This has set us back who knows how many years,'' he said.

In addition to the headstones of some Civil War veterans, a tombstone on a year-old grave was broken off and overturned, Weems said. Gail Elery and Ted Dillon have been repairing broken tombstones with an angle-iron frame, Weems said.

Two battles were fought in Newtonia during the Civil War, he said. The cemetery was established before the war, and many veterans from the area who served in that war wanted to be buried in the cemetery, he said. Ms. Hively said men often were buried where they died during the war. Sometimes, more than one body was buried in a grave, she said. She said she admired the old stones, some of which were 5 feet high. ``A broken stone is a broken stone, and when you put it back it will look like a broken stone," Ms. Hively said.

---
Donations can be in sent to:
Old Newtonia Cemetery Board
c/o David B. Weems
Box 99
Newtonia, MO 64853

---
Back to Newton County Main Page
---