William Moses Sharp family, Newton Co. MO.
Submitted by:
Lillie Eaton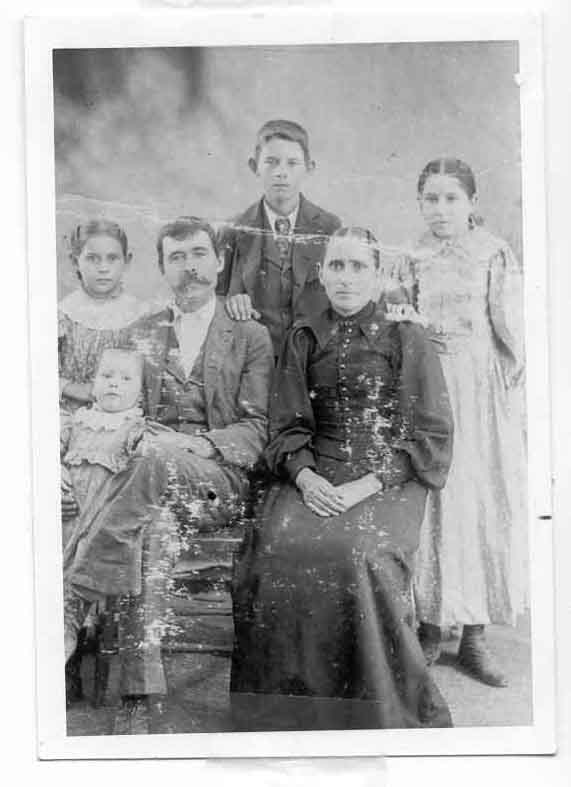 Seated are Moses and Louisa,
Left Francis, Elmer, Mattie and Sadie.


William Moses Sharp was born in Granby TWP Newton Co. MO. Jul 12, 1858.
He was the son of Isaac Sharp and Emily Lucinda Archer.
He married Louisa Jane Phillips 19 March 1882 in Newton Co. MO.
One son Elmer L. Sharp b. 14 Feb. 1883 married Myrtle Elizabeth Haley.
Five daughters were born to this couple.
Francis Emily b.28 Feb. 1886, married Edd Lee Berry 8 Mar 1903.
Mattie b. 1889 married George K. Caughn in Jasper Co. MO.
Sarah O. (Sadie) married James Clarence Clanton.
Lula Belle b. 6 Apr 1899 married Glenn G. Berry.
Alma b. 1901 married Earl Dunn in Jasper Co. MO.
Moses was driving a team taking produce to Joplin was killed by lighting.
He and his team were instantly killed the 12 of Sept. 1901.
Moses father died when he was a very young boy.
During his early boyhood he traveled with a cousin and drove cattle over the plains
of Texas, Arizona, New Mexico and other Western Territories.
After seeing the West he returned about 1880 and married Miss Louisa Phillips.
They lived in Newton County most of the time.
Moses was held in high esteem in his community.
His funeral was conducted at his home the 13th of Sept. by the Rev. A.V. Greer
and Rev. Majors. He rests in the Dice Cemetery, Newton Co., MO.

Back to the Newton County Main Page

©2002 Rhonda Smith